LIKE TO PREVIEW?
Click below to look inside
WANT MORE INFORMATION?
Click here to download the flyer
At last a book about the club industry , for the club industry
Why Clubs are good for Australia sets out to help change hearts and minds when it comes to public perception surrounding Australia's largest employer. Not only does the club industry support almost 100,000 jobs and build meaningful career paths, all 6,500 clubs across the nation collectively make a positive difference to the lives of millions.
Our clubs do so much for the community, yet this contribution goes largely unnoticed, when frequently overshadowed by hostile media and lobby groups. In Why Clubs are good for Australia we aim to put the record straight by exemplifying the enormous social contribution clubs make through a collection of stories from around Australia.
"It is about time people started to hear all the great things clubs do in the community"
Wendy Mills NAMBUCCA RSL CLUB LTD
Distribution
Help spread some good news about how good clubs are for Australia. This new and unique book reaches it's target audience through two points of distribution:
TARGET AUDIENCE
• Club patrons
• Club staff
• Club trade sponsors
TRADE SPONSORS
Trade sponsors support your industry by purchasing copies of the book. Featuring your business advertisement the book makes the ideal gift for your customers and staff.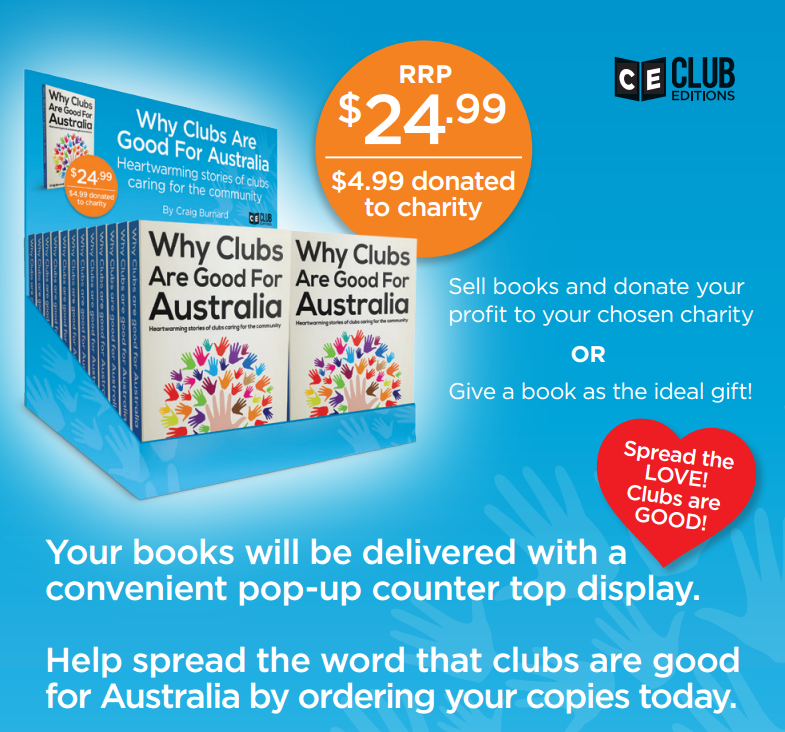 DISTRIBUTION THROUGH CLUBS
Clubs can purchase books at a wholesale discount. The profit from each sale can be nominated by the club to its elected charity or community chest.
About the Author
With a strong background in solution based marketing, Craig has been a service provider to a broad cross section of clubs since 2007. Through assisting clubs with online marketing it became apparent that a large proportion of club websites gave no, or little credence, to the work of clubs serving their respective communities. With necessity being the mother of invention, and having consulted with industry leaders, Craig was encouraged to tell the story. In 2016 Craig plans a similar book based around the New Zealand club industry.
Craig is married to his wife of 31 years Pauline, and has adult daughters working in Finance, Journalism, and Law.
"I want the world to know why clubs are good for Australia"
Craig Burnard
Author & CEO OF INSTOREVISION